Please read all information before placing an order.
Order processing hours are between 10:00 am and 5:00 pm Eastern Standard time.
ALL ORDERS MUST BE A MINIMUM OF $50.00 (including Discounts) Prepaid by Master Card, Visa, American Express or Paypal only. (No CODS)
• Most orders are shipped the next business day.
• Dart World offers free shipping on orders totaling $50 or higher (including Discounts). Orders less than $50 will be billed at our standard shipping rates.
• This free shipping offer is valid only for ground shipping in the 48 contiguous United States. Orders must ship to a single address.
• dartworld.com is not responsible for any errors or omissions and is not obligated to sell merchandise or provide free shipping due to pricing errors.
Shipping Details:
1. Most orders will be shipped the next business day.
2. Business days are Monday - Friday, No Holidays.
3. Dart World is located in Massachusetts. Normal shipping times are as follows for UPS Ground service, which qualifies for Free freight for orders over $ 99.00
4. You may pay additional freight charges to expedite your shipment.
5. Questions? Call us at 800-225-2558 (9 AM - 5:30 PM Eastern Time)
# Business Days

States

1 Day

CT, MA, NH, RI, ME, VT

2 Days

NY, NJ, PA, DE, OH, VA, WV, KY, NC, SC, MD

3 Days

MI, IN, IL, WI, MN, IA, MO, TN, GA, AL, FL

4 Days

MS, LA, AR, OK, KS, NE, SD, ND, CO, East - Texas

5 Days

CA, OR, WA, NV, AZ, UT, ID, MT, WY, NM, AK, HI
West - Texas
(For Example, an order shipping on Wednesday will be delivered in California the following Wednesday.)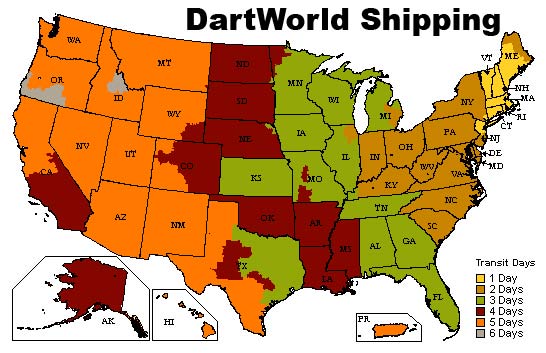 Shipments being sent via the US Post Office, to Alaska and Hawaii, and all P.O. Box #'s, APO's and FPO's will be charged freight charges as determined by United States Postal Service. In this instance, your credit card statement may have two charges: one for merchandise and one for shipping charges. Normal USPS transit time is 3-7 business days.
Orders requiring special shipping (Next day Air, 2nd day Air, or 3day Select as well as shipments requiring Saturday delivery will be subject to additional fees. Priority shipments will be shipped out the next business day after receipt of the order.
Dart World International Orders
Sorry at this time Dart World does not offer international orders.


Dart World Guarantee
Thank you for ordering from Dart World, Inc. We know that you will be pleased with your merchandise. If you do need to return any merchandise for any reason, It's important that you follow the procedure outlined below.


Dart World Returns
All returns require a Return Authorization number (RA). All defective goods must be inspected prior to the issuance of credit. In some instances a restocking fee may be charged for returned items.

Any loss or damage in transit must be reported to the carrier upon receipt of goods and a claim filed with the same carrier.
DAMAGED IN SHIPMENT
When you receive merchandise that is damaged, you must first report this damage to the organization that delivered your package, regardless of who you may think caused the damage. You need to save original packing material and shipping carton.
DEFECTIVE MERCHANDISE:
Dart World will replace at no-charge any defective items and will issue a return label. Please call us first and obtain a Return Authorization number (RA). 1-800-225-2558. In some instances, Dart World will send out replacement parts.
HOW TO RETURN MERCHANDISE
1. Pack items securely in the package to avoid any damage to the product. We will not accept damaged items due to improper packaging. Returns are processed within 3 days of arrival.
2. Include your name, address, phone number, and copy of your Dart World order.
3. Return to Dart World, Inc. 140 Linwood St. Lynn, MA 01905.
4. Be sure to keep your receipt in case the shipper loses your package.
IMPORTANT
Please understand that Dart World cannot accept C.O.D. returns, and refunds do not include shipping.
Out of stock merchandise: From time to time we may be out of stock on a high demand item. We will contact you by email or telephone to discuss the options and expected delivery dates. Back-ordered items will be shipped at no additional cost.